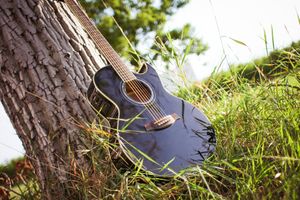 Who Are We?
Welcome to the CALVERT and WILLIAMS Collective.
We are an acoustic band from the St. Louis area.  We enjoy playing our interpretations of Classic Rock from the 60's, 70's, 90's and what's on the radio now.  Plus, we're playin' a few Country tunes that embody the spirit of C & W!
Although we can provide background music for any venue or event, we prefer interacting with our friends, and making everyone feel like they're a part of the band - as evident by our 20+ member backing vocal singers. 
Stephen "Stevo" Calvert, known for his pipes, is an accomplished musician, from a family of gigging musicians, and has toured the country during his 20+ years of making music.  Don "Lefty" Williams is upside-down in many ways.  Even tho it looks goofy, it sounds right... or left....
The Collective is a small, hand-picked group of extraordinary musicians and singers that love the music as much as we do, and join us for select gigs throughout the area.     Yep, it is cool!
What can you expect from hangin' out with Calvert and Williams?  You'll hear some great tunes, played with a flavor and a passion that rocks - in an unplugged sorta way!
We play private parties, wineries, clubs, outdoor events, and just about anywhere people want to enjoy LIVE music.
Check out our Songlist to get an idea of the some of the tunes we're playing right now.  Plus, join our mailing list or visit our Facebook page to keep in touch with us.